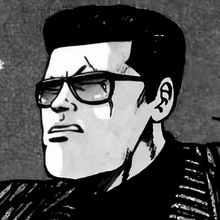 First appearance: Crows #13
Affiliation: The Front of Armament
Was one of the Four Kings of T.F.O.A.'s 3rd generation.
While hunting for Suzuran's students he chased Yasu, who was helped by Genjirou Katsuragi to escape in his car. He chased Katsuragi's car with his motorbike and provoked an accident that got Katusagi hospitalized.
Rindaman got enraged by his friend being injured and went after Iwai knocking him out.
Fights: Iwai vs. Rindaman - Lost (Crows #16)
Ad blocker interference detected!
Wikia is a free-to-use site that makes money from advertising. We have a modified experience for viewers using ad blockers

Wikia is not accessible if you've made further modifications. Remove the custom ad blocker rule(s) and the page will load as expected.