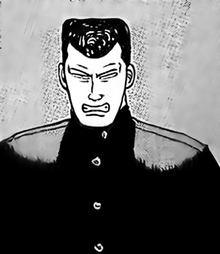 First appearance: Crows #23
Affiliation: Extreme Dragon Syndicate, Tsukamoto High

He had a quarrel with Maruken and Kakuken. He joined with Arita to form the Extreme Dragon Syndicate hoping to become a big gang after the fall of T.F.O.A.'s 3rd generation.
Fights: Noda vs. Kakuken - Lost (Crows #24)
Ad blocker interference detected!
Wikia is a free-to-use site that makes money from advertising. We have a modified experience for viewers using ad blockers

Wikia is not accessible if you've made further modifications. Remove the custom ad blocker rule(s) and the page will load as expected.