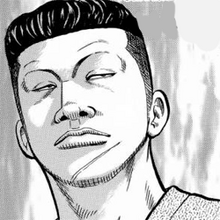 First appearance: Crows #80
Affiliations: Kurotaki Alliance, Tsukamoto High
He was one of the Kurotaki freshmen that didn't get to become an officer. They were skeptical about the Allliance and about following Nakajima Shinsuke, but they saw how good he was after he challenged Harumichi Bouya.
After Bulldog's and all senior officers retirement he would become an officer under Shinsuke.
Ad blocker interference detected!
Wikia is a free-to-use site that makes money from advertising. We have a modified experience for viewers using ad blockers

Wikia is not accessible if you've made further modifications. Remove the custom ad blocker rule(s) and the page will load as expected.